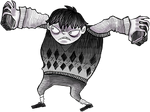 Chalk Clappers are an
enemy
found on
Woundwort
floors. They attack by clapping together two
chalk
board erasers, creating a white chalk cloud that drifts towards
Cordy
, damaging her on contact. There can be two active chalk clouds per Chalk Clapper.
Leader Variant
Edit
Chalk Clapper leaders create a green chalk cloud. This green chalk cloud moves faster then white chalk clouds and they confuse Cordy on contact reversing controls for a few seconds. As of v395, Chalk Clapper leaders are only capable of having one active cloud at a time.
Leader Names
Edit
Tabula Rasa
The Hudson Duster
Ole Smokey
Hardmode Changes
Edit
The Chalk Clapper remains mostly unchanged on hardmode. The leader variant, however, is once again able to keep two confusion clouds out at a time.